Towards More Sustainable Healthcare: The European PVC Industry's Response to Environmental Concerns
05/06/2023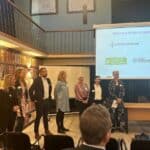 PVCMed Alliance Actively Participates in Market Dialogue on Eco-labeling of Medical Equipment
17/11/2023
PVCMed Alliance is excited to announce the release of our new flyer, 10 Key Reasons to Choose PVC in Healthcare Applications. This informative resource highlights the numerous advantages of using PVC (Polyvinyl Chloride) in the healthcare sector.
PVC has a proven track record of safety, having been utilised in disposable medical device applications for over 70 years. It complies with European Pharmacopoeia monographs, further reinforcing its suitability for such applications.
One of PVC's strengths lies in its extensive versatility. It finds application in a wide array of medical products, including tubing, oxygen masks, blood bags, mattress covers, flooring, and much more. PVC's unique technical properties, such as biocompatibility, transparency, chemical resistance, and ease of sterilisation, make it a top choice for healthcare materials.
Cost-effectiveness is another compelling reason to opt for PVC in healthcare. Compared to alternative materials, PVC offers a superior price-performance ratio, potentially saving substantial costs. Replacing PVC with alternatives could result in a 30% increase in medical device prices.
Continuous innovation within the industry has expanded the range of safe plasticisers for medical applications, ensuring PVC's adaptability to evolving healthcare needs.
PVC also supports environmental sustainability through its recyclability. The VinylPlus® Med project demonstrates that disposable PVC medical devices can be transformed into durable healthcare products.
In terms of compatibility, PVC excels, offering high biocompatibility and adaptability to pharmaceutical products commonly used in healthcare facilities.
Architects benefit from PVC's design freedom, which allows for endless design options for hospital interiors, creating more welcoming spaces.
Moreover, PVC boasts a low carbon footprint, with its production primarily derived from salt, hydrogen, and ethylene, resulting in an environmentally friendly choice. Bio-attributed and bio-circular PVC options, as well as non-fossil based additives, are also available.
Lastly, PVC is renowned for its ease of processing with common plastic converting technologies, ensuring convenience in manufacturing.
PVCMed Alliance's new leaflet serves as a valuable resource for healthcare professionals, architects, and stakeholders interested in making informed choices regarding materials in healthcare applications. The leaflet is available in both web and print versions, and free copies can be obtained by emailing info@pvcmed.org.