Softness and flexibility are key properties for medical devices. This is, for example, crucial for tubing that goes inside the body, which must be as soft as possible for optimum patient treatment and comfort. In order to make PVC medical devices soft and flexible, a plasticiser (US: plasticizer) is added to the PVC compound.
A wide range of plasticisers for medical applications are now included in the European Pharmacopoeia, which sets Europe's legal and scientific standards to delivering high quality medicines in Europe and beyond. This broad range of plasticisers allows medical devices manufacturers to develop high performance medical PVC solutions to best serve patients and medical professionals.
Safe alternatives to DEHP in medical applications
The phthalate DEHP used to be the main plasticizer in medical PVC due to its technical properties and low cost. The substance has been under increasing scrutiny by regulatory and medical authorities, and in the EU its continued use in medical devices after May 2021 requires robust justification.
As part of their commitment to innovation, continuous improvement of safety, performance and cost-efficiency, companies within the medical PVC value chain have progressively made available a wide range of alternatives to DEHP plasticiser for medical applications, which are approved by the European Pharmacopeia. These include: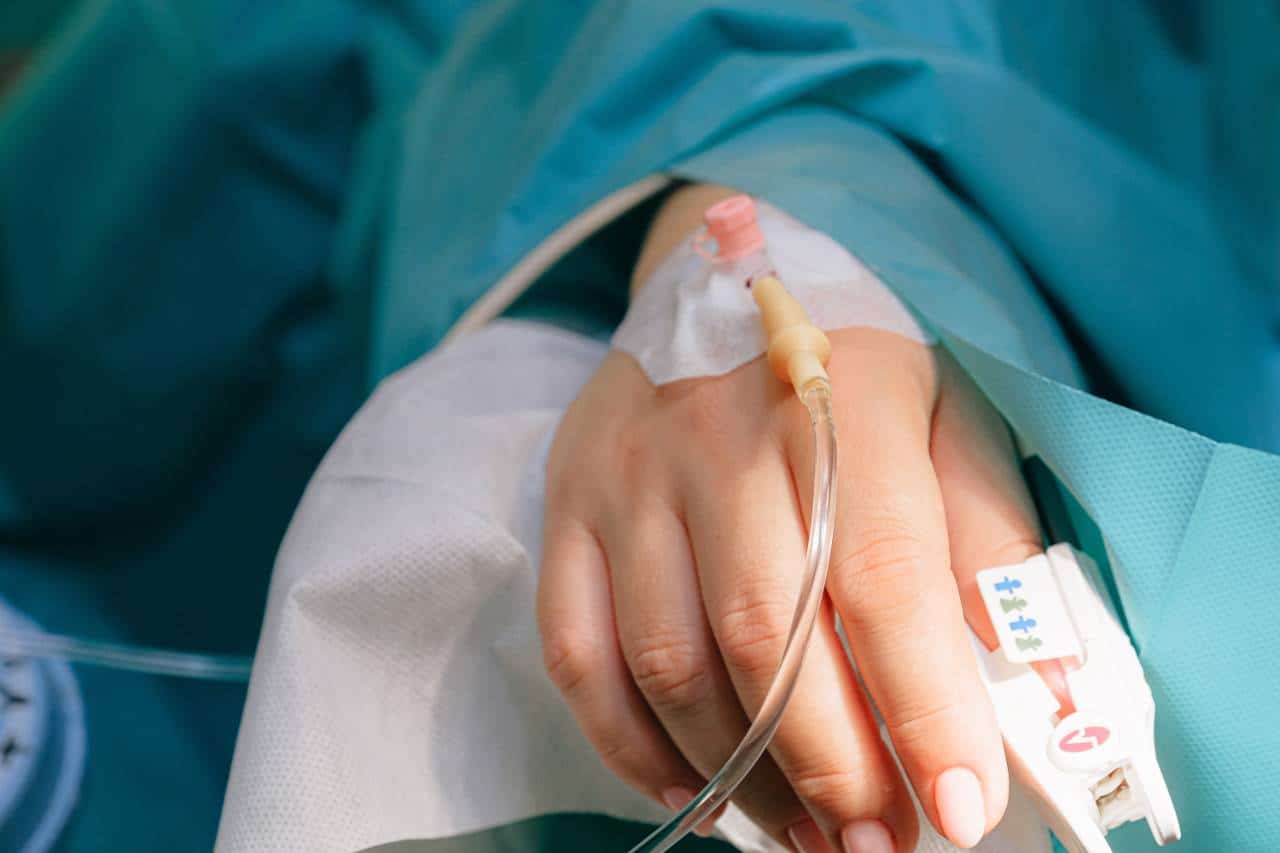 5 key reasons why the DEHP substitutes are safe
The plasticiser industry has invested more than €6 billion in developing safe alternatives to DEHP for medical applications. Yet some stakeholders are questioning the safety of the new plasticisers. Discover 5 key reasons why the DEHP substitutes are safe.
DEHP regulatory status in the EU
The use of DEHP in the EU is regulated by different pieces of legislation, including REACH Regulation, RoHS Directive and the Medical Device Regulation. Medical devices have until recently been exempted from restrictions. This is due to change in the coming years, as follows:
Medical Device Regulation
According to the Regulation (EU) 2017/745 (Medical Device Regulation) that entered into force on 5 April 2017 and became applicable 26 May 2021, medical devices containing DEHP in quantity above 0.1% w/w need specific justification. The justification for the presence of Carcinogenic, Mutagenic and Reprotoxic Category 1A and 1B and endocrine disrupting substances – including DEHP – shall be based upon:

An analysis and estimation of potential patient or user exposure to the substance
An analysis of possible alternative substances, materials or designs
Argumentation as to why possible substance and/or material substitutes or design changes are inappropriate in relation to maintaining the functionality, performance and the benefit-risk ratios of the product
Latest relevant scientific committee "Guidelines on the benefit-risk assessment of the presence of phthalates in certain medical devices covering phthalates which are carcinogenic, mutagenic, toxic to reproduction (CMR) or have endocrine disrupting (ED) properties"

31 December 2027 is deadline for CE marking of all new and legacy high-risk medical devices
31 December 2028 is deadline for CE marking of all new and legacy low-risk medical devices
REACH Regulation
On 10 July 2019, ECHA's Member State Committee adopted the "Recommendation to amend the Annex XIV (Authorisation) entries to DEHP, BBP, DBP and DIBP". This is ECHA's last step on the process started in December 2014 and July 2017, when DEHP was added on the Candidate List for Authorisation under REACH respectively for its endocrine disrupting properties to the environment and human health
The European Commission amended the entry for DEHP in Annex XIV in December 2021 to include an entry for Endocrine Disrupting properties meaning that medical devices containing DEHP will need to undergo the authorisation process to be placed on the market
The latest application date for authorisation is 27 November 2023
The sunset date for DEHP in medical devices is 27 May 2025. By that date, medical devices containing DEHP must either have been authorised or been withdrawn from the market
RoHS Directive
According to the EU Directive 2015/863 (RoHS 3) as published on the Official Journal on 4 June 2015, electronic and electrical equipment containing DEHP in medical devices are restricted starting from 22 July 2021
Please note that the restriction shall not apply to medical devices placed on the market before 22 July 2021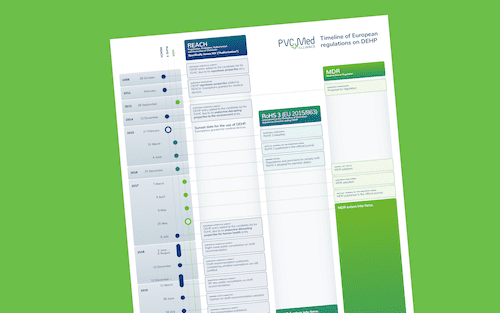 Timeline of European regulations on DEHP
Download the timeline for an overview of DEHP regulation in REACH, RoHS and the EU Medical Device Regulation.
PVCMed Alliance's commitment to safe alternatives
The PVCMed Alliance is committed to proactively contribute to this scientific process, always providing the best solutions to medical professionals contributing to affordable quality healthcare for all.
We have contributed to the Danish Environmental Protection Agency's report on alternatives to DEHP and classified phthalates in medical devices, which identified ten potential alternative plasticisers already in use. Following the report, PVCMed Alliance co-organised an international conference in Copenhagen with attendance from a broad range of stakeholders.
The Alliance is planning to continue to contribute in the future.