What is medical devices sustainability?
Medical devices are considered a huge field of use in healthcare, and PVC provides the best solution, due to its properties and high flexibility. The great advantages of this material are evident in terms of quality at a low cost, which has allowed the broader population access to safe, first-rate and affordable healthcare. But this is not enough. For us, medical devices sustainability also means environmental impact: the European PVC industry is committed to sustainable development throughout the whole value chain.
Committed to sustainable development
Through the VinylPlus® initiative, the European PVC industry is creating a long-term sustainability framework for the entire PVC value chain. It aims to:

Recycle 800,000 tonnes of PVC per year by 2020

Promote a sustainable use of additives

Improve PVC products sustainability and their contribution to sustainable development

Reduce progressively GHG (greenhouse gas) emissions as well as energy and resource consumption along the entire production chain

Move towards a low-carbon circular economy

Build sustainability awareness along the value chain and among stakeholders
Independent monitoring and third party verification
The progress is monitored by an independent Monitoring Committee and documented by yearly Progress Reports that are independently audited and verified by third parties. The praise for the VinylPlus programme comes from a wide range of stakeholders, e.g. the European Commission which considers VinylPlus a frontrunner for circular economy. VinylPlus is registered as a SMART partnership on the UN Partnerships for SDGs platform and listed as a Good Practice on the European Circular Economy Stakeholder Platform. Together with fiver other European plastics organisations, VinylPlus has recently launched Circularity Platforms aiming to reach 50% plastics waste recycling by 2040.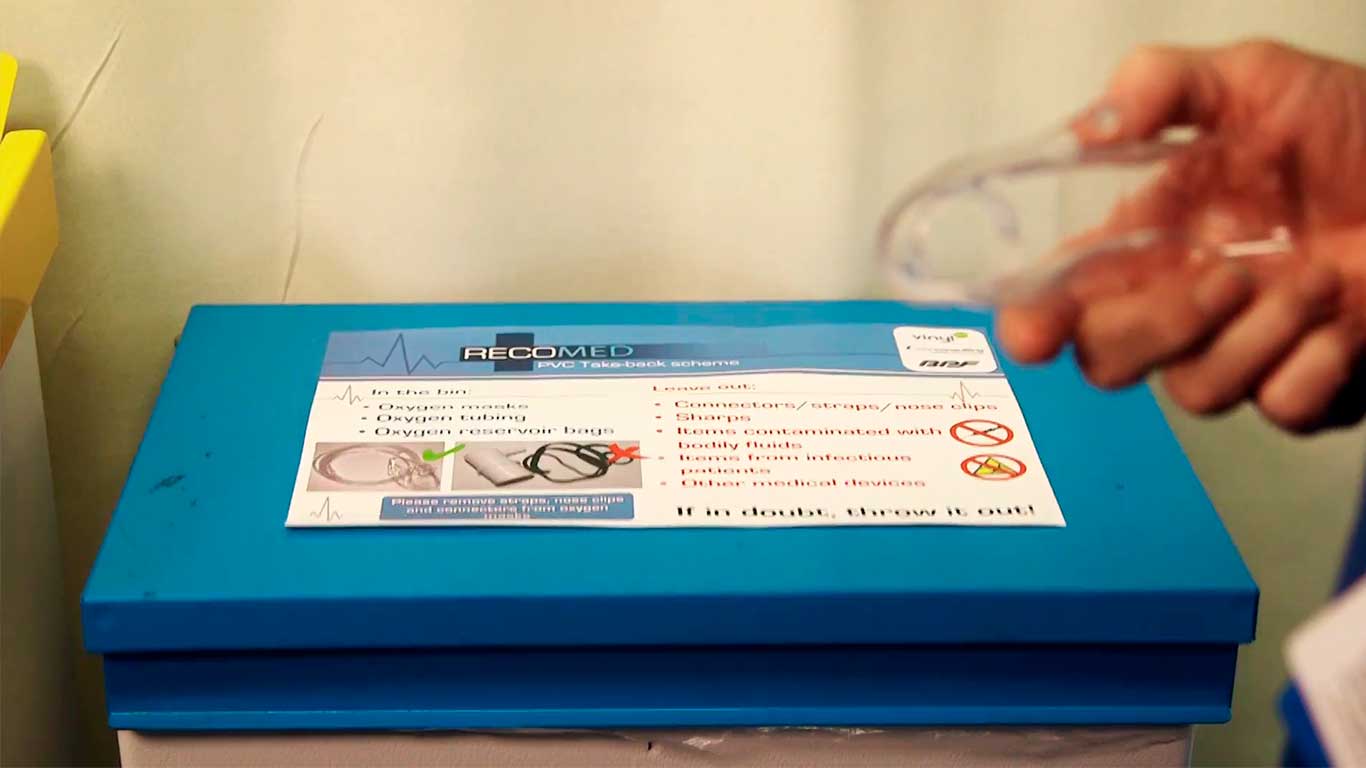 Medical device recycling now established
Medical grade PVC is a high-class material, which can recycled again and again into useful products. This, together with the fact that many medical devices such as oxygen masks and tubing are used for a few seconds on non-infectious patients, have led to the establishment of a
highly successful recycling system in Australia and New Zealand hospitals
: around 170 now collect medical devices for recycling. In the UK
a similar pilot project
has been set up, which is supported by the European PVC industry's sustainable development programme
VinylPlus®
. By recycling these high quality products, hospitals can contribute to the circular economy and help achieve sustainability targets.