Good hygiene is imperative to any hospital environment. It is estimated that more than 4 million patients in the EU acquire infections from hospital exposures every year. This is why choosing the right materials for healthcare facilities is key. 
Unique hygienic properties
Fortunately, PVC or vinyl flooring and wall covering is available to architects and hospital builders. Vinyl flooring has unique hygienic properties, as it laid in long, wide lengths which require a minimum of welded joints. Due to its long service life PVC flooring has low total cost of ownership. Vinyl flooring is safe and comfortable to walk on – important if you are a healthcare professional who spend most of your days on your feet. Not least, architects love vinyl because it gives them free rein to pursue their ambitions and create healthcare facilities which put the patient in focus.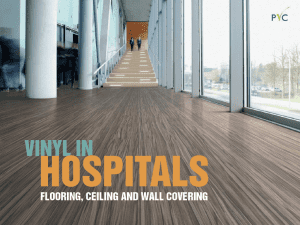 Read more in the colourful booklet Vinyl in Hospitals, which is also available in print. To acquire a copy, please write info@pvcmed.org.